Well, it was another great adventure for the Project: Traveler team – chasing someone else's money. Pete, WBØDRL from Salina, KS was scheduled to launch and altitude-record-breaking flight from Salina on Saturday, 10 January 2003 from his shack a few miles west of Salina.
Preparations were underway when Jon, AJØNR, a friend Brad, and myself (Zack, WØZC) left Hutchinson around 8:20am Saturday morning. Initial predictions were placing the landing spot somewhat south-east of Wichita, so we headed towards Newton where we waited. The net on 40m soon announced that their balloon had gotten away from the launch crew and so we hung out at a Walmart and replaced a broken light bulb in my van while we waited. We were also able to meet up with a second chase vehicle, Randy, WAØD from Burton, KS.
Around 10:00am, the flight was underway and we began to head south to intercept the touchdown point. Things looked and sounded good coming from his balloon, except for the fact that the ascent rate seemed to fluctuate quite a bit. Our chase vehicle observed anywhere from about 400 ft/min to 800 ft/min rates which seemed a little odd.
The capsule soon hooked off to the east so we picked up highway 400 and began heading east. We soon found our first treasure of the chase – Beaumont, KS. At this point, the balloon was at about 50,000 feet and our predictions were showing a landing point of a few miles south of Beaumont, so we decided to stop and wait on it. Initially, I missed the turn off for the town and so I pulled off at the next turn about a quarter mile down the road. I happened to notice a small kit-plane turning on to final approach and became a little concerned that he was aiming for the road that I was getting ready to drive on, but there was a little grass strip a few hundred feet away.
We turned around and got back on highway 400 to turn into the town. We drove down the little county road into town, where I noticed a bright-yellow Piper Cub parked over in some grass. I pulled up to the only stop sign in town where, to my surprise, I had to give right-away to that little kit airplane we just saw land. It taxied down the street and pulled up next to a row of other small planes.
It was 12:30 by this point, the balloon still had a good hour of ascent left on it, so we moseyed into the Beaumont hotel for a bite to eat. The diner was filled with pilots who had all flown in. Everyone's attention was immediately focused on the three stooges… I mean strangers, who just walked in the door. Someone asked if we had flown in. I responded that we were in the porcupine, referring to my van with six antennas hanging off of it.
Lunch was excellent and we soon found ourselves back outside gazing northward into the clear skies. Almost immediately I spotted the balloon. For what it's worth, I snapped a picture of my view with the equivalent of about a 350mm lens and checked in on the HF net to brag about having a visual on the balloon.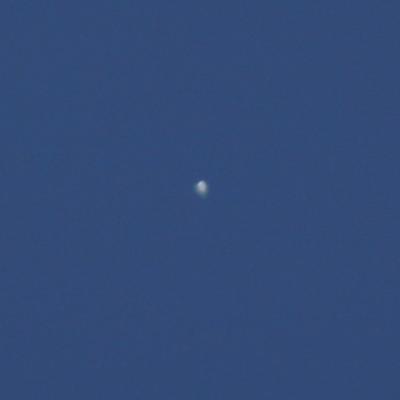 Jon and Brad were soon found wandering over to the Piper Cub that was still sitting there. We had a short chat with the builder/pilot and were again on the road.
By this point, the balloon had just crossed 100,000 feet and we noticed the sharp eastward turn in the flight path. We got back out on the highway and were struggling to keep ahead of the flight. At about 112,000 feet, our alarms on the laptops started going off indicating that we had a burst and the capsule was coming home – only it wasn't. We quickly found that the capsule was bobbing up and down. We later estimated that we were observing a net ascent rate of about 2 feet per minute.
Things began to feel hopeless as we roared along highway 400 quickly approaching the Missouri border. We were all relieved to hear that Net Control had decided to issue the cutdown command to the capsule to prevent it from floating on for hours at this rate. We turned north to again intercept the touch-down point but were soon feeling helpless again because the cutdown device didn't appear to be working. The WØZC chase vehicle was now within 50 miles of the Missouri boarder with no end in sight.
My hat is off to the WBØDRL Net Control station in Salina, as well as the relay station (I'm sorry I missed your callsign), who stayed with the chase teams and kept us informed. This chase would not have worked without those people because there was too much separation between the vehicles on the ground as well as in the air.
Net Control announced that Pete, who was chasing in an airplane, wanted to gather and meet at an airport to discuss the plans. Iola, KS was the decided meeting point, so we headed that direction and began discussing amongst ourselves that if the balloon doesn't burst or cut by the time we leave the airport, we would have to head home. The balloon had only gained a few hundred feet in the past hour, and was cruising along at 40-75 knots. We were pulling into the entrance to the airport when I heard a frantic cry on the HF that the balloon had burst and was coming down.
The third chase vehicle (KAØMR and KCØKCI) was about an hour behind us and bailed out of the chase. Randy, Pete in the airplane, and our van quickly decided to head towards Fort Scott, KS. A few seconds later we were speeding down highway 54. The airplane had a good tail wind and was reporting a 140mph ground speed which Randy and I couldn't quite keep up with.
The balloon came down remarkably slow – we observed a decent rate of less than 1000 feet/min somewhere around 5,000 feet MSL. Pete was only minutes behind the capsule at touchdown just south-east of Nevada, MO. He relayed some final coordinates to the ground vehicles and we forged on. A few minutes later we were in Nevada and drove to within a tenth of a mile of the capsule. Unfortunately, we had a problem. There was a fence between it and us, and this fence was labeled: 'WARNING – Demolition Range – Do Not Enter During Live Firing' and was shown on the map as being Camp Clark National Guard Base. I wasn't too interested in scaling that fence, and Randy wasn't jumping up at the opportunity.
We went back to the airport to pick up Pete and we were allowed onto the base, un-escorted none-the-less, to retrieve our capsule. The picture below is what we encountered. Jon soon found the capsule, hanging gracefully from a largely dead tree at the 50 foot level. Jon really stepped up to the plate on this one: and quickly gained the nickname 'Monkey Boy'. I'm going to let the pictures do the talking.

This is the view going into the trees.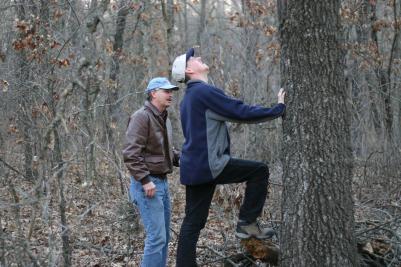 Jon and Pete assessing the situation.

Giving Jon a lift.

This is the point where I began to think about what I would say to Jon's wife if I had to call her and tell her some bad news.

The capsule falling.

From left to right: Dirk (NØKSC), Pete (WBØDRL), Randy (WAØD), Jon (AJØNR), Brad, Zack (WØZC)
We were soon headed back home. By this time, Jon had earned the nickname 'Monkey Man'. Randy had to take Pete and his copilot back to the airport and so we got separated from him. It was after 9:00pm when we rolled through Wichita, KS and the consensus of our group was that we had better bring home some Krispy Kreme donuts home with us if we didn't want to be sleeping in our vehicles over night. I finally pulled into my driveway at 10:30pm a full 15 hours, and 450 miles, later.